My warm greetings to all the students and their parents.
About Secretary: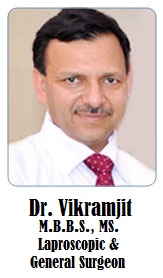 Dr. Vikramjit is the General Secretary of Nova Educational society.
He is running Ashirwad Hospital at Muktsar. He is the leading surgeon of his area. He is known for his competency and honesty towards his profession. He is a daring surgeon ready to handle complicated cases that has been refused by others. He is also a visiting surgeon to various hospitals around Muktsar and in Patiala. He is the active member of Nova Educational Society ready to serve the cause of humanity. A tireless, devoted & dedicated human-being, with a mission.
In his hospital all advance surgeries like – Laproscopy,TUR, URS, PCNL, and Gut anastmosis are regularly done. He had participated in KAUN BANEGA CROREPATI (Season-1). He is a life member of "Surgeon Society of India".
He is the President of Rotary Club Muktsar and also associated with Distt. Cricket Association of Mukatsar.